Take my advice, DO NOT let Sunflower Dead's visual image fool you! I almost let them pass by due to judging their appearance. From the album cover to the promo photo, I was expecting some crazy hybrid of rehashed Nu-Metal mixed with some rap crap of those poseur morons in Insane Clown Posse. However, upon listening to the first few songs of their new album "It's Time To Get Weird", it became abundantly clear that while they may have a tinge of Nu-Metal to their sound, they understand that infectious riffs and hooks will not leave them lumped together with the rest of the copycat clones of a genre that is well past its prime!
The album starts off with an eerie accordion piece entitled "Inhuman Lung" that leads into "Dance With Death". The tune was the right choice for the first single and video or ones introduction to the band! "It's Time To Get Weird" features Korn's Jonathan Davis. I have to admit, I am not a fan of Korn except they did produce to cool music videos so I was worried this would be a showcase of the Korn frontman. Again, I have to admit, I WAS WRONG, instead of hogging the spotlight, he accents Michael's vocals very well. Up next is my favorite track of the album, "Just A Little Kiss". It's an addictive lil ditty. Digg the tempo change and layered vocal n' growl that leads into the abbreviated solo section.
"You're Dead To Me" is an up tempo groove fest with some pretty bitchin' chugging guitars. Fans of guitar solos will digg this track. "Nothing" is giving "Just A Little Kiss" a run for its money as my favorite tune of the album. Starting with some sparse piano and Michael bleeding his heart out through the vocals it slowly builds in intensity before coming back down in mood and tempo. Imagine Evanescence and Trans-Siberian Orchestra. One of the heavier tracks on the album is "My Mother Mortis". A fiery lil' groove monster. How about some detuned and distorted bass to kick off "I'll Burn It", sounds good to me. A vocally diverse offering from straight forward singing to more metallic growl that brings to mind the late, great Dave 'Stage' Williams of Drowning Pool who executed multiple vocals styles in his songs often. Nothing wrong with variety because as they say, variety is the spice of life! Oh yeah, by the way, the solo smokes! Short and sweet but some delicious ear candy.
Machine gun fire drums kick "The Rain" in the ass. Digg the groove however lyrically, the chorus is a bit elementary. "Interlude" is basically 1:14 of menacing sinister sounds that would give little kids the heebie jeebies. "Through The Blackest Eyes" continues the sinister vibe of the previous track albeit toned down just a bit. Nobody could accuse Sunflower Dead of false advertising when it comes to "Anthem Of The Seeds" as it is exactly what the title says. An anthemic battle cry written to unite the band and its fans as one. No doubt this will go over HUGE with their fan base and should generate massive crowd participation at their live shows. Holy Mr. Crowley Batman, "Outro" has that quality to it before fading off into static. Two minutes later it picks up with a bizarre conversation amongst band members.
While Sunflower Dead may draw from their respective influences, they are on their own path in terms of image and sound. Sunflower Dead takes me back to 1996 when I first witnessed the sights and sounds of Psychotica opening Lollapalooza '96 in Kansas City, MO. Frontman Pat Briggs vocal range ran the gamut from punk to operatic while Enrique Tiru-Velez use of a cello was something I had never seen in such a setting. I digg bands that think outside the norm with instrumentation choices.
For instance, lead singer Michael Del Pizzo plays an Accordion! The incorporation of such an instrument to a rock band adds to their sonic stew. "Weird Al" Yankovic should take these guys on tour! Could you imagine the crazy jam that would ensue? It should be fun to watch the progress of the band in the years to come. I hope these guys from my adopted hometown of Long Beach do well!!!
Sunflower Dead – It's Time To Get Weird
Release Date:October 30, 2015 via Bloody Bat Records
Track Listing:
1. Inhuman Lung
2. Dance With Death
3. It's Time To Get Weird
4. Just A Little Kiss
5. You're Dead To Me
6. Nothing
7. My Mother Mortis
8. I'll Burn It
9. The Rain
10. Interlude
11. Through The Blackest Eyes
12. Anthem Of The Seeds
13. Outro
Sunflower Dead:
Michael Del Pizzo – Vocals, Accordion, Piano
Jaboo – Lead Guitar
Jamie Teissere – Guitar
Lats – Bass
Jimmy Schultz – Drums
Additional Musician:
Jonathan Davis of Korn on "It's Time To Get Weird"
Produced by:
Dave Fortman & Mikey Doling
Purchase Sunflower Dead's "It's Time To Get Weird" from iTunes:
Sunflower Dead – Dance With Death (Music Video)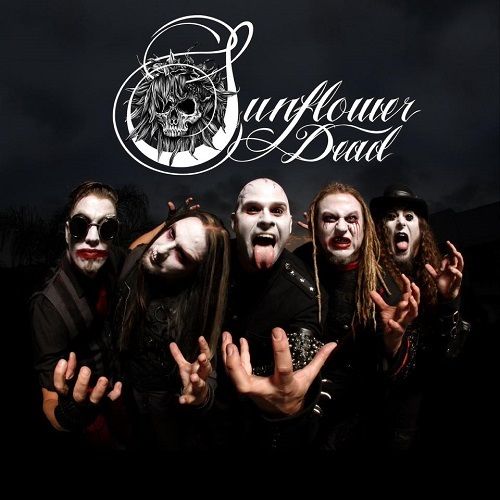 Category: Reviews