First off, my apologies for the tardiness of this review. I should have had it posted before the April 1st release date of the album but life and almost death got in the way. I'll spare you all the details but for the past four months I was very ill and towards the end of May, according to my doctor, I was within 48 hours of death had I not had an "episode", for lack of a better term and ended up in the ER. The irony of all this is, I was admitted on May 22nd and I had fully intended on having this review done before the album came out so I could focus all my attention to interviewing Black Stone Cherry & Buckcherry before reviewing their show here in Kansas on May 24th. Instead, I listened to their MP3's while in ICU on that night! So, in honor of the 3 month anniversary of its release and my improved health, here is my review of Black Stone Cherry's "Kentucky"!
June 4, 2016 marked the 15th anniversary of Black Stone Cherry. Consisting of Chris Robertson on Lead Vocals & Guitars, Jon Lawhon on Bass & Backing Vocals, Ben Wells on Guitars & Backing Vocals and John Fred Young on Drums & Backing Vocals. The first five years of existence were spent honing their craft in "The Practice House" outside of Edmonton, KY. The Practice House was handed down to Black Stone Cherry by drummer John Fred Young's Father Richard and Uncle Fred who are founding members of The Kentucky Headhunters. In 2003, the band entered Barrick Recording Studio, Glasgow, KY. to record their debut independent album "Rock & Roll Tape".
In 2005, the band signed with Roadrunner Records and released their major label self-titled debut album in 2006. They quickly made a name for themselves due to the success of their debut single & video "Lonely Train". The next ten years were spent touring the world relentlessly while still finding time to release three more studio albums and a live CD/DVD/Blu-Ray. 2015 saw their contract with Roadrunner Records come to an end.
In late 2015, the band signed with Mascot Label Group (MLG) and set out to make their sixth studio album entitled "Kentucky" which was released on April 1st. The union of the band and label along with the recording of the album is a homecoming of sort. MLG's North American President, Ron Burman, is the man who signed Black Stone Cherry to Roadrunner and the band recorded the album with David Barrick at Barrick Recording in Glasgow, KY. where they recorded their first two albums. The results of the homecoming are nothing short of a massive re-invigoration for the band after having spent the last three albums with a record label breathing down their next to produce more radio friendly material in the vein of cookie cutter bore fests such as Nickelback, Theory Of A Deadman and Staind.
If you were expecting that by putting on an album called "Kentucky" that you'd have to paddle faster to get away from your car or home stereo due to the overuse of Banjos then you are sadly mistaken. "The Way Of The Future" gets the album going with a rockin' tale about the world we live in. Lyrically it hits upon how politicians are pitting every group against each other and fueling unrest in our country with the entitled racist rhetoric. With lyrics about a subject matter as heavy as the state of our country and race relations, you'd think the song would be a downer. I don't see it that way. To me, it comes across with a message of unity and a plea to recognize who the true enemy is. If you aren't a fan of lyrics this heavy, tune 'em out and enjoy the groove. "In Our Dreams" starts out mellow before diving headlong into one of the heaviest tracks on the album. Don't fret, when I say heavy, don't worry that they're heading into Slayer's territory! The song was originally written for 2011's "Between The Devil & The Deep Blue Sea" but was deemed "too heavy" by some clueless suit at Roadrunner Records. Wait, isn't Roadrunner the label home of Slipknot and Killswitch Engage? Thought so…..
"Shakin' My Cage" could easily be stripped down to a real haunting Delta Blues tune. Somewhere Son House is reading along to the lyrics as the vinyl plays on the ultimate stereo and is thinking "Damn! Why didn't I write that? I wonder if St. Peter would kick me out if I put my spin on it?" Don't let my vision fool ya because the song has a groove as think as the Delta air in the summertime. Up next is one of my favorite tunes on this album, "Soul Machine". Chris Robertson really belts out the vocals and in the pre-chorus gets downright menacing in a seductive tone for the ladies. Rumor has it he contributed organ to the track while Ryan Stiles & Jonas Butler bring the funk with the horns and Toynnia & Sandra Dye keep it on the righteous level with their gospel infused background vocals! A nice blend of rock, funk and soul serves this track well. "Long Ride" features Paul Hatchett on organ and is the first ballad of the album. Lyrically autobiographical and sure to pull at the heartstrings. Really digg the channeling of AFD-era Slash on the solo! This should do very well at radio.
Get ready to crank it to 11 and make sure your neck is loosened up because this next cut will get your ass a movin' & a groovin'! It is Black Stone Cherry's interpretation of the Norman Whitfield and Barrett Strong penned "War" that went on to gain Edwin Starr a #1 hit in 1970. Job well done guys! Fuzzy guitars and slammin' drums accent "Hangman", a mid-tempo introspective rocker that finds Chris bearing his sold about a not-to-distant time in his life where he contemplated suicide. The lyrics really struck a chord with me as I've battled depression and being bi-polar since childhood. It can cripple a person. If you know someone who is having a hard time in life, please reach out to them, let them know you are there to listen and hopefully, they'll take you up on your offer. Did whoever mastering this album screw up and put a Robert Randolph & The Family Band tune on here? No, it's just Chris and Ben expanding band's sound. The guitar parts sound like the sweet stylings of pedal steel. Could it be Ben or Chris are conjuring up the spirit of Ralph Mooney on "Cheaper To Drink Alone"? Another fun rocker.
Toynnia and Sandra Dye, Chad Lockhart, Boone Frogget, Andrea Tanaro & Black Stone Cherry join forces to create a joyful noise at the beginning of "Rescue Me". Another introspective lyric seems to find Chris purging the issues he battled over the past few years before he received the help he needed. You won't find a wimpy ballad musically. Boosted by some chuggin' riffage and John Fred's machine gun drumming, the beginning of the song is almost deceiving considering how it turns out. "Feelin' Fuzzy" accurately describes this tune sonically. Jon lays down a sweet groove and is the MVP of this song.
"Darkest Secret" is another song that had been around a few years and is easily the heaviest song on the album. Eerily atmospheric, heavily distorted fuzzy guitar tones, some trippy workouts of the pickup selector switch work well in conjunction with Jon's low end and John Fred's all out drumming assault. Very Sabbath-esque. "Born To Die" is another introspective rocker. White it doesn't suck, it just doesn't do much for me other than the Sitar-esque parts. I won't even touch "The Rambler" because it is by far my favorite song on the album, very emotional, pushes all the right and some wrong buttons in me. Co-written with former Shinedown guitarist Jasin Todd, this is the type of song any songwriter hopes they can write one day but most never do. You can hear the pain in Chris' vocal, absolutely heartwrenching!The fact they used it as the regular album closer shows you how much everyone thought of the song and the impact it would have on the listener!
This paragraph is dedicated to the F.Y.E. Exclusive Bonus Tracks. "Love Runs Out [One Republic Cover]" through me for a loop. I enjoy diversity but this tune is damn near bordering on a pure pop song. I began to wonder if someone didn't stick some Justin Bieber and Taylor Swift CD's in the bus and that they wore off on it guys but after Googling the band name along with the song title, I discovered this is a cover of a One Republic tune. With that being said, it is actually in my top 5 songs on the album. Ya just can't go wrong with some sugar sweet hooks! Sweet Fuzz Tone Batman, "Coyote" just slams from start to finish. "Mississippi Queen [Mountain Cover]" is just iconic from the cowbell to Leslie West's prowess on the guitar. These boys from Kentucky do a wonderful job covering "Mississippi Queen"! I am going to have to take a copy of this song to the titty bar the next time I go!
The last two songs are the iTunes bonus tracks. "I Am The Lion" is good but does nothing for me. Now "Evil [Howlin' Wolf Cover]" on the other hand is another wicked cover. I'm a HUGE Howlin' Wolf fan as well as a HUGE fan of this band I am reviewing so in the past year, the fact that Howlin' Wolf has been covered by two of my favorite bands, The Dead Daisies and Black Stone Cherry gets me all tingly.
All together, between three editions, Black Stone Cherry have compiled 18 diverse tracks that explore their Rock, Metal, Funk, Blues and Soul influences. On one hand, this is consistently their heaviest release since their self-titled album. On the other hand, it is the most diverse. There are a couple of tracks that should do good at radio but you won't find any cookie cutter songs written to prostitute themselves for the A&R Man or the Program Director at any given lame radio station in this country.
Thank you to Moon, Sarge, Aimee and Brandon here at LRI for their support and encouragement while I was out & a thank you/shout out to Ruben for his support and encouragement as well!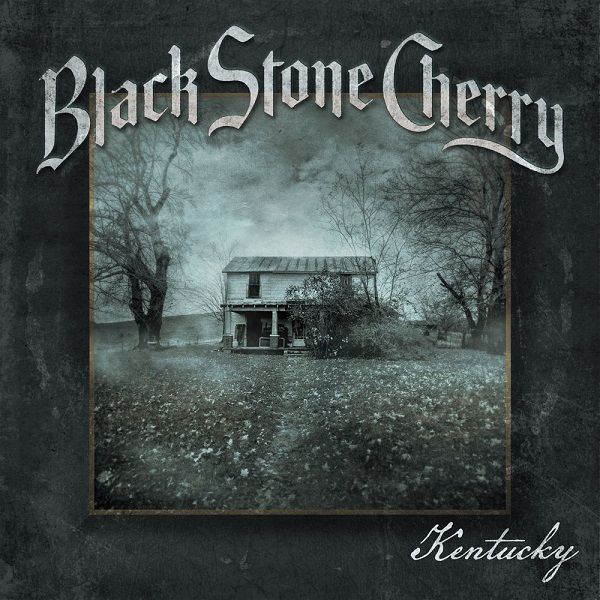 Black Stone Cherry – Kentucky
Release Date April 1st, 2016
Mascot Label Group
Black Stone Cherry:
Vocals, Guitars & Organ on "Soul Machine": Chris Robertson
Guitars & Backing Vocals: Ben Wells
Bass & Backing Vocals: Jon Lawhon
Drums, Percussion & Backing Vocals: John Fred Young
Additional Musicians:
Horns: Ryan Stiles & Jonas Butler
Background Vocals: Toynnia and Sandra Dye, Chad Lockhart, Boone Frogget & Andrea Tanaro
Organ: Paul Hatchett
Strings: Chris Carmichael
Produced by:
Black Stone Cherry
Executive Produced & Engineered by:
David Barrack
Mixed by:
Keith Armstrong
Track Listing:
01. The Way Of The Future
02. In Our Dreams
03. Shakin' My Cage
04. Soul Machine
05. Long Ride
06. War
07. Hangman
08. Cheaper To Drink Alone
09. Rescue Me
10. Feelin' Fuzzy
11. Darkest Secret
12. Born To Die
13. The Rambler
F.Y.E. Deluxe Edition Bonus Tracks:
01. Love Runs Out [One Republic Cover]
02. Coyote
03. Mississippi Queen [Mountain Cover]
iTunes Bonus Tracks:
01. I Am The Lion
02. Evil [Howlin' Wolf Cover]
Purchase Black Stone Cherry "Kentucky" EXCLUSIVE Deluxe Edition w/ DVD, colored vinyl variations and shirt bundles from the bands merch page:
Click here for Black Stone Cherry EXCLUSIVE Deluxe Edition w/ DVD, colored vinyl variations and shirt bundles from the bands merch page:
Purchase Black Stone Cherry "Kentucky" on Vinyl, CD or MP3 from Amazon:
Click here for Black Stone Cherry "Kentucky" on Vinyl, CD or MP3 from Amazon
Purchase Black Stone Cherry "Kentucky" Deluxe Edition CD from F.Y.E.:
Click here for Black Stone Cherry "Kentucky" Deluxe Edition CD from F.Y.E.:
Purchase Black Stone Cherry "Kentucky" [EXCLUSIVE CHERRY RED COLOR VINYL WITH THREE EXTRA TRACKS] from F.Y.E.:
Click here for Black Stone Cherry "Kentucky" [EXCLUSIVE CHERRY RED COLOR VINYL WITH THREE EXTRA TRACKS] from F.Y.E.:
Purchase Black Stone Cherry "Kentucky" from iTunes:
Official Black Stone Cherry website:
http://www.blackstonecherry.com/
Follow Black Stone Cherry on Twitter:
https://twitter.com/BlkStoneCherry
Follow Black Stone Cherry on Instagram:
https://www.instagram.com/blackstonecherryofficial/
Black Stone Cherry on Facebook:
https://www.facebook.com/blackstonecherry
Black Stone Cherry "Kentucky" EPK's, Promo Videos and Lyric Videos:

Category: Reviews