A little over a year ago, the music industry was all abuzz over the fact that Aerosmith frontman Steven Tyler announced he was recording his debut solo album and it'd be a country album. Had he announced such plans back in the late 1980's or early 1990's I would have been concerned about how it'd sound. These days, 99% of what is called "Country Music" is just over-polished Pop music was some banjo or mandolin overdubs. Let's not forget the simplistic cut-and-paste lyrics about tailgates, pickup's, dirt roads, ponds, beer and solo cups.
Surely, someone as creative as Steven Tyler wouldn't let himself go the simplistic route of a "cut-and-paste" Country album but would instead make an eclectic album choked full of many styles and varied instrumentation. I've been a fan of Aerosmith for as long as I can remember and have remained such even through their much-maligned 1990's and 2000's output. I think I may be one of the few fans who can honestly say that "Get Your Wings" and "Nine Lives" rank as my #1 and #2 favorite Aerosmith albums. So, I've eagerly awaited July 15, 2016 so I could purchase Steven's debut solo album and let the music do the talking.
The album kicks off with "My Own Worst Enemy" which is for the most part is a ballad until the last ninety seconds. Lyrically, it takes a hard look in the mirror at ones faults, presumably Steven's, laid atop some interesting instrumentation courtesy of an Accordion and Dolceola. In my opinion, the song would be better served without the uptempo part that starts at the 3:40 mark and ends at the 4:45 mark. "We're All Somebody From Somewhere" is a fun funky track complete with a horn section to jazz things up. "Hold On (Won't Let Go)" could have easily fit on Aerosmith's "Honkin' On Bobo" album thanks to the swampy guitar sounds and percussion.
"It Ain't Easy" is yet another ballad and probably the most Country sounding song on the album thanks to its use of Mandolin, Fiddle & Pedal Steel. Steven really shines vocally on this track thanks to the sparse instrumentation for which accompanies him. "Love Is Your Name" was released over a year ago as the albums debut single. I remember at the time of its release thinking it wasn't very Country sounding, traditional, modern or otherwise. Sure it has traditional Country instruments such as a Banjo, Fiddle, Bouzouki and a Cig Fiddle on it but it is hardly the Country that I grew up on and thankfully is much better than the crap that gets passed for Country music these days.
"I Make My Own Sunshine" is nothing short of an emotional uplift thanks to its happy upbeat vibe. Digg the Ukulele that dominates the song and the underutilized Dobro featured in the short but sweet solo. Hippies everywhere have a new anthem with "I Make My Own Sunshine"! "Gypsy Girl" features Fleetwood Mac's Lindsay Buckingham on Acoustic and Electric Guitar's. Reading the lyrics makes me wonder if Steven isn't singing the story of Stevie Nicks and Lindsay Buckingham? "Somebody New" is an uptempo ballad dominated by the Drums, Mandolin and some beautiful Lap Steel. A little more Country than most tunes on this album. If the credits listed Joe Perry and/or Brad Whitford on Slide Guitars, Dobro & Ganjo than "Only Heaven" could easily be mistaken for one of the best power ballads Aerosmith never did. It is definitely Steven's best vocal on the album. "The Good, The Bad, The Ugly & Me" is an uptempo rocker that showcases what one expects from Steven lyrically, sexually charged lyrics full of double entendres. "RED, WHITE & YOU" is the second single released for this album and is the closest that Steven comes to Modern Country on this album. "Sweet Louisiana" is a feel good mid-tempo tune where Steven sings about all the things that make women so irresistible. It's catchy, it's poppy and one helluva fun toe tapper.
"What Am I Doin' Right?" is a ballad dominated by a Bouzouki and lyrics full of self doubt when it comes to love. Track #14 sees Steven re-visit one of Aerosmith's classics in "Janie's Got A Gun". Lyrically it was always one of Aerosmith's darker tunes but in this stripped form with the addition of Violin and Cello, it becomes even darker. Interesting to note that the core of the track is Stone Temple Pilots fronted by Steven Tyler. Eric Kretz and Dean & Robert DeLeo do an exceptional job on the track. The album ends with Steven's version of "Piece Of My Heart", made famous by Janis Joplin. He is accompanied by The Loving Mary Band which is his solo band featuring longtime Aerosmith collaborator Marti Frederiksen who co-produced three songs on this album and recently produced the forthcoming album by The Dead Daisies entitled "Make Some Noise", due in stores August 5th.
In closing, if you are avoiding this album due to the hype of it being a Country album, ignore that description. Yes, there are moments of Country on it, more so in the choice of instrumentation than anything else. Overall, the album has more genre diversity than any one label. There is a bit of Delta Blues, Zydeco, Rock, Jazz, Funk, R&B, Soul and some of Steven's best vocal performances committed to disc.
Steven Tyler – We're All Somebody From Somewhere
Release Date – July 15, 2016
Dot Records/Big Machine Label Group
TRACKLISTING:
1. "My Own Worst Enemy" – Steven Tyler, Brad Warren, Brett Warren
2. "We're All Somebody From Somewhere" – Steven Tyler, Jaren Johnston
3. "Hold On (Won't Let Go)" – Steven Tyler, Jason Boyd, Jared Gutstadt, Jeff Peters
4. "It Ain't Easy" – Steven Tyler, Cary Barlowe, Nathan Barlowe, Hillary Lindsey
5. "Love Is Your Name" – Lindsey Lee, Eric Paslay
6. "I Make My Own Sunshine" – Alyssa Bonagura
7. "Gypsy Girl" – Steven Tyler, Ross Copperman, David Hodges
8. "Somebody New" – Steven Tyler, Brett James, Hillary Lindsey, Troy Verges
9. "Only Heaven" – Steven Tyler, Rhett Akins, Chris DeStefano
10. "The Good, The Bad, The Ugly & Me" – Steven Tyler, Brad Warren, Brett Warren
11. "RED, WHITE & YOU" – Steven Tyler, Nathan Barlowe, Levi Hummon, Jon Vella
12. "Sweet Louisiana" – Steven Tyler, Cary Barlowe, Nathan Barlowe, Hillary Lindsey
13. "What Am I Doin' Right?" – Steven Tyler, Brad Warren, Brett Warren
14. "Janie's Got A Gun" – Steven Tyler, Tom Hamilton
15. "Piece Of My Heart" (with The Loving Mary Band) – Bert Berns, Jerry Ragovoy
Purchase Steven Tyler's "We're All Somebody From Somewhere" CD or MP3:
Click here for Steven Tyler's "We're All Somebody From Somewhere" CD or Digital Album from Amazon
Purchase Steven Tyler's "We're All Somebody From Somewhere" from iTunes:
Official Steven Tyler website:
http://www.StevenTyler.com
Follow Steven Tyler on Twitter:
http://www.twitter.com/IamStevenT
Steven Tyler on Facebook:
http://www.facebook.com/steventyler
Steven Tyler on Instagram:
http://www.instagram.com/iamstevent
Steven Tyler "Love Is Your Name" video:

Steven Tyler "RED, WHITE & YOU" lyric video: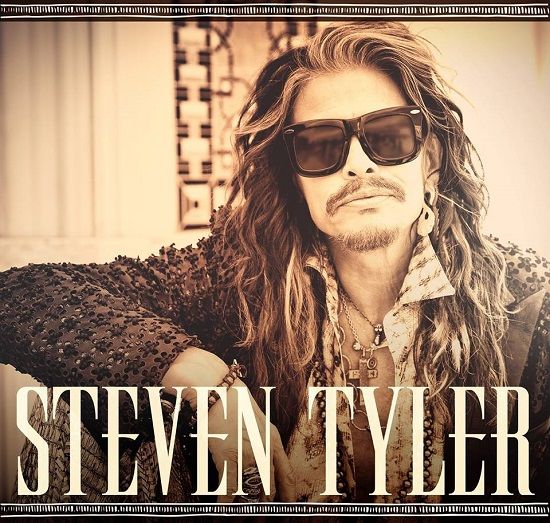 Category: Reviews