Twenty-one is an impressive number. 'Salting Earth' just happens to be Richie Kotzen's 21st solo album. Not many artists can say they've released 21 SOLO studio albums in their career. What makes 21 solo albums even more impressive is the fact that they have been issued in a span of just 28 years. Twenty-one does not include live albums, EP's or compilations released under the banner of Richie Kotzen.
Furthermore, twenty-one DOES NOT include the albums he has done with Arthur's Museum, Poison, Greg Howe, Mr. Big, Vertú, Forty Deuce, Wilson Hawk or The Winery Dogs. Say what you want, positive or negative about Richie Kotzen or his music but you can't deny his recording career has been prolific considering he is only 47 years old! Kotzen began his solo career at the age of 19. Simply prolific!
Richie's last solo album 'Cannibals' was released in 2015. Since then he promoted his first ever professionally done live DVD, toured with his solo band, wrote, produced, recorded and completed a worldwide touring cycle with his band The Winery Dogs that includes Mike Portnoy on drums & the legendary Billy Sheehan on bass.
Artist – Richie Kotzen
Album Title – Salting Earth
Label – Headroom-Inc
Release Date – April 14, 2017
TRACK LISTING:
01. End of Earth
02. Thunder
03. Divine Power
04. I've Got You
05. My Rock
06. This Is Life
07. Make It Easy
08. Meds
09. Cannon Ball
10. Grammy
ALL Songs Written, Arranged, Produced, & Performed By Richie Kotzen except 'Make It Easy' which features Julia Lage on background vocals.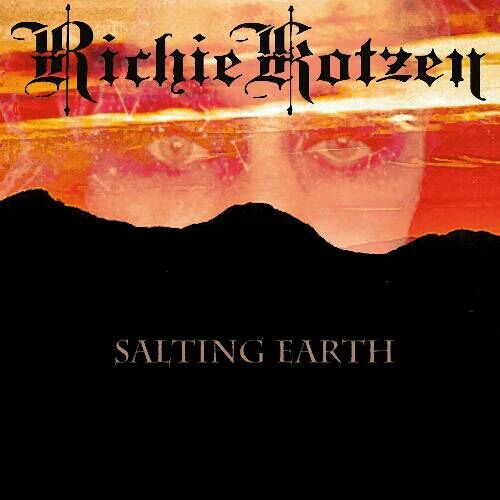 A homage to the stylings of AC/DC dominates the rhythm guitar, lead riffage and drum tones for the first minute & twenty-one seconds of 'End of Earth'. From the pre-chorus and bridge on, Richie goes off like a crazed spider monkey. Interesting tonality of his Fender of choice in the breakdown leading to the solo. No doubt that fans of his Shrapnel output will digg on the solo. The chorus is where the song and album title originate. The tone and emotive playing hit one right in the heart while the soulful acoustic twist underneath the bluesy stylings that start at 4:11 take you on a journey until the door closes on the song. *exhales due to emotional sonic exhaustion*
A 'Thunder'ous solo kicks this storming cut off. The rhythmic pre-chorus vocal delivery, sonic tones and his attack or playing of the guitar is reminiscent of his work in Forty Deuce. Lyrically, not to boo-hoo but as someone who survived a traumatic and abusive childhood at the hands of a drug addicted & alcoholic BIOLOGICAL father who as an adult was VERY recently wronged by a "brother" of 21 years, this song hits home. However, Mr. Kotzen has obviously observed these situations happen to others and a songwriter, storyteller, reporter or journalist feels compelled to tell that story.
Here, Mr. Kotzen has eloquently done so and this song is therapeutic for me, the listener! Dammit Richie, why must you be a storyteller of this caliber where I think you are observing my life! Ugh! In the end, it is a song of empowerment and hope! Thank you, Thank You, THANK YOU!
'Divine Power' is built upon an acoustic foundation and the lyrics are self explanatory. Rich in blue-eyed soul and an organic blend of the musical progression from 1998's 'What Is' up to his Winery Dogs output through 2015's 'Cannibals'. So much emotion within the solo at 2:49 through 3:44. I can't heap enough praise upon the inventors of a certain sparkle red invention known as a Vintage Vibe. One question Richie, did your snare and cymbals owe you money because you were snapping them like a red headed step-child.
'I've Got You' is another song that seemingly showcases Richie's underrated abilities as a drummer. The snare has a vintage tone while the beats has a marching band feel to them. Forgive me if I'm not hip to the proper drum or rhythm lingo, I'm just a music lover who happens to be white as Casper and has no rhythm & two left feet! His vocals have a cool 80's pop vibe to them over some groovin' bass. The solo is melodic, catchy, hummable, soulful and short n' sweet.
I am scratching my head while wondering who 'I've Got You' and 'My Rock' could have been wrote about. Whoever she is, she is one lucky lady and must have shed a happy tear or two when presented with this double shot of heartfelt admiration. The song is a lush piano driven composition that was recorded without his signature Fender guitar. The sparse drum parts and mellow pulsating bass accent the piano perfectly!
I know this is an album review but I must direct your attention to the music video for 'My Rock'. For one, the cinematography capturing the beautiful locations within are stunning. I am enamored with the outside sceneary filmed in the mountains of California, the rustic swing that hangs between two wooden wagon wheels with a metal Old West scenic landscape atop it. Richie looks dapper in the top hat and suit while the ghostly woman "joins" him on the aforementioned swing.
From there, we are brought into Richie's gorgeous home where you find him playing a vibrant red piano that was once in his Headroom Studio back in the mid 2000's and featured in a photo shoot that was published in the May 2003 issue of Young Guitar Magazine. The vibe I get from the video is of a lonely man longing for love who is "visited" by a veiled woman who is nothing more than an illusion. That is how I interpret the video whereas I feel the song is about his wife. Wrapping up this music video review, the trumpet lamp that sits atop the piano is a masterful work of art! My hats off to its brilliant craftsman.
Pardon me while I make a personal request.
Dear Mr. Kotzen,
Please record an entire album of compositions showcasing your blue-eyed soul and the gorgeous tones of his vibrant red piano, Hammond B3, Wurlitzer, Leslie speaker cabinet and your sparkle red Vintage Vibe. If I may, I'd also LOVE to hear your interpretation of two songs.
1- Sarah Smile by Hall & Oates
2- Layla (with Coda) by Derek & The Dominos
It'd be greatly appreciated! Others may have a similar request for such an album! Can I get an AMEN from the congregation?
Sincerely,
Crash Crafton
aka richie_kotzen_collector on your old website forum
Can I get an AMEN?
Back to my review. WARNING: F-bombs in the lyrics! Just warning you! The F-bombs are not dropped for shock value but as a tool to accentuate the emotion of the lyrics and delivery of the vocals. You may proceed…..
Released as a lyric video approximately ten months ago, 'This Is Life' sounds as "fresh" now as it did then. Guess what, more fanboy joy courtesy of, you guessed it, the sparkle red Vintage Vibe! 😉 This song finds Richie contemplating the meaning of his life, I believe and setting a plan in motion for how he chooses to live it. To hell with what others think he should do! We should all adopt that mantra, we'd probably be much happier if we did things as Ol' Blue Eyes sang, "I did it MY way!" I digg when he explores the higher registers of his voice. Very few can hit notes that high with that much emotion and clarity without the aid of Pro-Tools. The listener will FEEL every note of the emotion laden sparse solo. The piano and bass in unison is a beautiful way to end another beautiful composition.
'Make It Easy' finds Richie's amazingly talented new bride Julia Lage and him layering some awesome harmonies together on the background vocals! I feel I'm in the "Wayback Machine" with the dial pegged on 1994 and I am attending the Mother Head's Family Reunion with this cut.
Weird, "Mother Head's Family Reunion" just happens to be my favorite Richie Kotzen album. Oh, do I hear some B3? Wait, there was B3 on "Mother Head's Family Reunion". Cover me as he cuts loose on the solo. He pushes his voice to the brink at 3:08, yowzah! This may just be my favorite tune on the album….but wait, not so fast, there are three more tunes before we reach the end of this sonic journey. 'Make It Easy' makes it easy to remember my favorite album and this song is my favorite of this album.
Richie asks "Should I start taking meds?" No Richie, I take enough for the both of us and then some! 'Meds' is a song title that I can thoroughly relate to on a personal level. To those that are "in the know", haha, I made a self deprecating funny! To those out of the loop, feel free to laugh along as laughter is said to be the best meds for ones soul, besides music. Without my laughter meds, I'd be salting the end of earth. Oops, I did it again. Damn double entendres. Back to the song. 'Meds' brings Da Funk and funky is as funky does on the four string thang! Sitting under the learning tree with Professor Sheehan and Professor Clarke has obviously wore off on the pupil.
Are the lyrics autobiographical or merely observations? Only the writer knows. Another thing with a song is they allow the listener to adopt it as their own. Like the songwriter wrote it about them. I've been told by many songwriters that besides the personal satisfaction the creative process gives them, the ultimate payoff for them is when a composition penetrates another's heart and soul and that person adopts the composition as their own. Behold the sheer gift of music and the power of song.
I am reminded of this quote…..
Mmmmm, creamy smooth Vintage Vibe and more "in the pocket" drumming start off'Cannon Ball'. We are treated to more Philly influenced blue-eyed soul. I love how the guitar sits behind the rest of the instrumentation instead of being in the forefront. If this song is released to Adult Contemporary radio stations and GOD has power over program directors then 'Cannon Ball' will be a surefire hit & if it isn't put in rotation then program directors really are the bastard spawns of Satan!
'Grammy' has been available as a lyric video for seven months. 'Grammy' seems to be a golden trophy in the form of someone very dear to him. A very rhythmic vocal bordering on rap, albeit a very soulful rap.
In closing, another collection of stylistically diverse songs written, arranged, performed and produced by Richie Kotzen. In my opinion, the main thing about Richie Kotzen's recorded output that has kept my attention since 1990 is not only the quantity but the sheer quality. Every album, either solo or as a member of a band, is superb.
No two albums are remotely the same yet you always know exactly who you are hearing within a few notes. Each album has its own uniqueness that sets it apart from the previous release. There is nothing half-assed about his output, no filler just to hit a record companies song requirements.
Most of all, he creates music for himself. If people happen to enjoy it, he sees that as icing on his creative cake. Creativity is like air to Mr. Kotzen be it musically creative, remodeling homes or in building electric gadgets. His trigger is tripped by being creative.
For that, my ears and soul have been blessed. I just hope I'm around to be blessed by many more! If not, Mr. Richie Kotzen, THANK YOU for 27 years of sonic joy, my life has been much richer for having heard your music!!!
Richie Kotzen Tour Dates & VIP Experience Packages:
Richie Kotzen Official Website:
Richie performed The National Anthem at Los Angeles' Staples Center prior to the April 10th NBA game between the Houston Rockets and Los Angeles Clippers
'My Rock' Music Video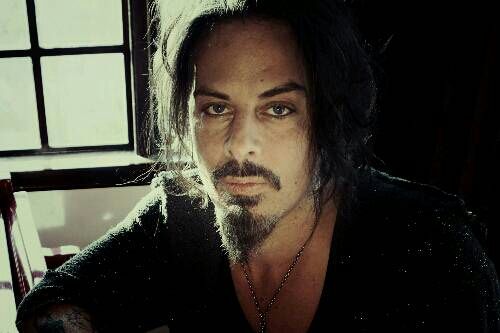 Category: Reviews