Book Review – Jewel – Never Broken – Blue Rider Press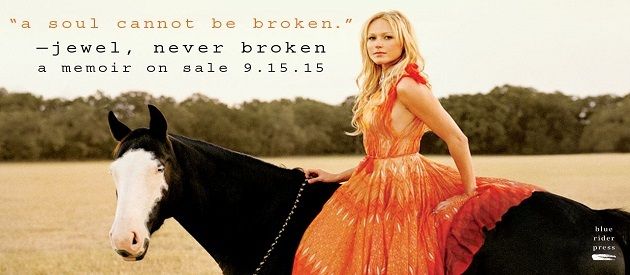 Twenty years since bursting into pop culture's consciousness with her debut album "Pieces Of You", Jewel is releasing her memoir "Never Broken" on September 15th through Blue Rider Press. In the twenty years since its release, Jewel has remained a creative force as a singer-songwriter, guitarist, and producer. She also branched out into acting and has published several books prior to "Never Broken".
I've read "Never Broken" twice in the past two weeks. Presently, I am working on my third time through. The first thing that caught my attention was that unlike many celebrity memoirs, Jewel actually wrote hers. I've been a fan of her since I first saw the video for "You Were Meant For Me" back in 1996. I own ALL her albums as well as the two books she has previously authored. Whether you are a longtime fan or picking up this memoir out of curiosity, rest assured it is OBVIOUS, "Never Broken" is all Jewel! No "ghost writer" needed.
"Never Broken" is a no-holds barred and brutally honest account of her life. As a fan, I was aware of many of the details of her life but Jewel really goes in-depth in telling about her life. From her gypsy childhood living in the harsh environment of the Alaskan wilderness without modern day amenities such as running water or indoor plumbing, to her time singing in bars with her dad Atz Kilcher after her parents' divorce all the way to present day as a well-established musician, author and loving mother.
This memoir takes the reader on a journey through all her hardships and triumphs. It is a captivating story of survival, self-discovery and perseverance mixed with some amazing insight on how she has avoided becoming just another statistic, to borrow a "line" from the woman herself. One will be floored reading of the "relationship" she had with her own mother. It is simply heart breaking but Jewel carried on.
What I enjoyed most about the book and what was the most surprising aspect of it was it opened my eyes to my own life, my surroundings and those in my life. It made me take stock of everything and opened my eyes to some things that needed changed! It is equal parts memoir and the best "self-help" book I have ever read. Jewel offers amazing advice and lessons based on her experiences that will undoubtedly help many readers along the way.
The "Afterword" alone is worth the suggested retail price! Dr. Phil and the rest of these "self-help" gurus don't have anything on Jewel but she never fails to give credit where credit is due. She offers up several suggestions for books that helped her through her darkest times that I will be purchasing.
To quote from the press release of this memoir, "My life has been about constantly challenging myself to discover who I am, and to become responsible for my own happiness rather than being a victim of whatever fate has thrown my way, " said Jewel. "I hope that the personal experiences I write about will help others to understand that, no matter how bleak or how gilded, we are not prisoners of our circumstance unless we believe ourselves to be." How right she is!
The month of September promises to be a busy month for Jewel. Besides releasing her memoir, she is also releasing a new album entitled "Picking Up The Pieces" on Sugar Hill Records on the 11th. She will also be making numerous media appearances to promote both the memoir and album as well as doing special signings around the U.S. Check the "The Latest" section her official site for a list of all the appearances and book signings.
Thank you Jewel for sharing not only your amazing story but for using the platform of your memoir to continue to inspire others. You truly are an "Every Day Angel"!
Purchase a signed copy of Jewel's memoir "Never Broken":
Click here to purchase a signed copy of Jewel's memoir "Never Broken"
Purchase a signed copy of Jewel's memoir "Never Broken" & signed copy of her new album "Picking Up The Pieces":
Click here to purchase a signed copy of Jewel's memoir "Never Broken" & signed copy of her new album "Picking Up The Pieces"
Purchase Jewel's memoir "Never Broken" on Amazon:
Click here to purchase Jewel's memoir "Never Broken" on Amazon
Official Jewel website:
http://www.jeweljk.com
Follow Jewel on Twitter:
https://twitter.com/jeweljk
Official Jewel Facebook:
https://www.facebook.com/jeweljk
Follow Jewel on Instagram:
https://instagram.com/jewel